Change management programmes are complex constructions that enable companies to manage amongst other things installation of new processes, optimisation of current operating models, or delivery of new platforms. Change programmes are often designed to improve the realization of business benefits or ensure compliance with new regulations.
They include developing road maps, generating organizational buy-in, implementing the initiatives as efficiently as possible, and often also generating repeatable models for ensuring continued success in future change efforts.
An effective change management programme improves the ability of leaders to help their teams succeed, showing where and when trouble is likely to occur and laying out a strategy for mitigating risks and monitoring progress.
In this article, we provide tips and insights on how to set up an effective change management program.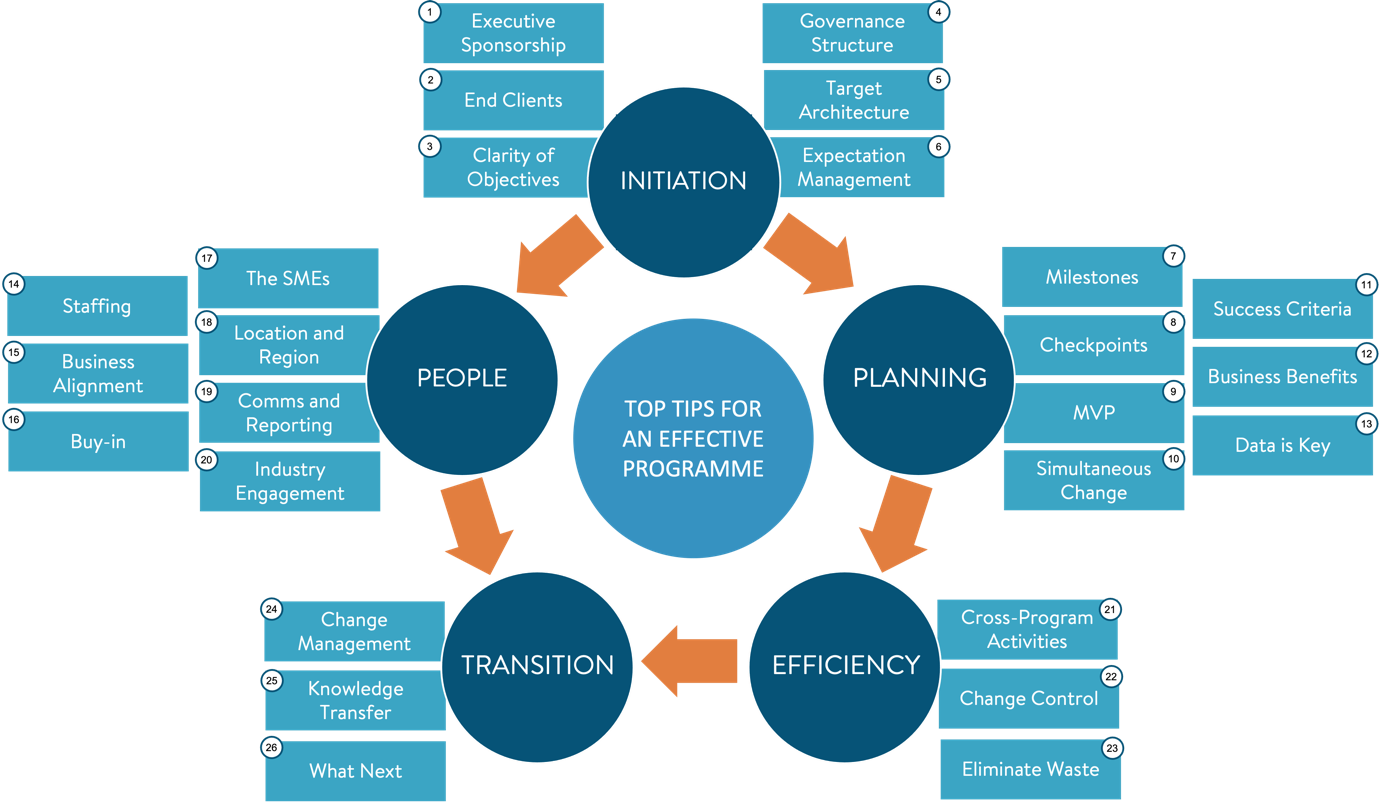 Executive Sponsorship The senior leadership team must visibly sponsor large programmes. Input is required to advise on strategy, relative priority, approach, and tone. Senior leaders need to communicate regularly regarding the programme to ensure commitment and engagement across the organisation.
End Clients It is critical to have upfront and continuous engagement with the end client community (internal and external). Where external clients are affected, representative stakeholders should be identified upfront based on importance to the bank, the scale of operation, and willingness to participate in feedback sessions and trials. It is advisable to have pseudo account managers facing off to these client groups, acting as a two-way communication channel for the duration of the programme.
Clarity of Objectives Large programmes have key themes and are often underpinned by many smaller expectations or outcomes from primary stakeholders. It is essential to understand what these are, ensure they are built into the program's fabric, and that project resources retain focus on delivering these outcomes. These key objectives should be reiterated and validated by the executive sponsors at regular intervals throughout the programme.
Governance Structure Make sure the governance structure is water-tight, with sufficient senior stakeholder involvement to resolve program issues expeditiously.  All key stakeholders should be represented. A committee hierarchy supported by sub-working groups will be required for more extensive programmes. These committees and working groups should have a strictly defined purpose linked to the objectives, with clear roles and responsibilities, clear escalation channels, and clear ownership of decisions. Good project discipline should be enforced with meeting minutes produced, and actions agreed and tracked. Care should be taken when setting up the governance structure to ensure it is appropriate for the program's size. Meetings should involve the minimum number of people and should be objective and outcome-driven.
Target Architecture Define the high-level architecture of the programme (organisation, operating model, or systems landscape) early on and get buy-in from the senior decision-makers across impacted areas. This is critical to ensure efficient and effective execution.
Expectation Management Be careful not to overpromise in the early stages as the objectives are being clarified and the plan is forming. Winding back from overpromising creates an impression of delays or lack of delivery, both of which make the wrong impression for the programme, from which it is difficult to recover.
Milestones Milestones are significant for marking success, ensuring clarity of delivery responsibility, and managing dependencies between programmes. Don't create too many that they just become 'noise' but have sufficient to enable the program's status to be clearly communicated and enable concrete tracking of progress. Milestones, where possible, should be associated with a tangible interim benefit.
Checkpoints Extended programmes never play out as originally planned. Build in checkpoints to remind stakeholders and the programme team of where the most significant risks are. Allow reflection on how to proceed and whether plan adjustment is required at each checkpoint, as progress is measured, and erstwhile unknowns become better understood.
MVP Build an understanding of critical technical or process risks early and develop MVPs to prove the solution. Fail fast and adjust if necessary. Where risks are significant, consider planning multiple iterations to get the right outcome before moving on to dependent aspects of the programme.
 Simultaneous Change Dependencies on large programmes running simultaneously need to be clearly understood and carefully managed. The programme also needs to understand what is going on from a BAU sense in the areas affected by the programme. Communication, prioritisation, and adjustment will all be necessary tools.
Success Criteria Build objectives into success criteria. Attach percentages to them so the programme can report achievements along the way. This will remind the team of what to strive for and ensure morale remains high as the achievements are ticked off. Positive communication of successes is also helpful to remind decision-makers of value delivered.
 Business Benefits Keep a laser-like focus on defining business benefits and high-level mapping deliveries of the program to those benefits. Prioritise the benefits and don't let delivery of the "perfect" solution get in the way of delivering a "good" solution earlier.
 Data is Key Most programmes have a significant data component. This can be data migration, privacy or residency, tracking or managing data, or building a new workflow and data management process. It is vital to agree early on which areas within the business are responsible for which data sets. A new technique, organisation, or system will only be as good as the data on which it relies.
 Staffing It is important to have ring-fenced resources equipped with expertise in the areas considered essential for the program's success. Where resources are not dedicated, it is necessary to manage expectations as regards required commitment. Programme "champions" within business/support functions are vital to decision-making and acts as evangelists and eyes/ears on the ground.
Business Alignment The alignment of business teams on the target operating model, data ownership, and expected outcomes is a foundation for any programme. Responsible parties for new processes, workflow, or data management activities must agree and accept their adjusted roles to deliver sustainable outcomes. This is often achieved through a set of requirement documents signed off by the relevant owners.
 Buy-In A successful programme is a sustainable programme; without the buy-in of the people materially impacted, the solution will not "stick." Ensure they are engaged and feel able to contribute to the solution. This goes a long way to gaining buy-in.
 The SMEs SMEs in any area are often long-serving, long-suffering, and overstretched. Engage with them in places where you need support but potentially do not have control early. Get their commitment to support the programme as you will need their guidance and their buy-in to help overcome challenges and hurdles along the way.
 Location and Region Different regions have different cultures and operate under differing regulatory and statutory environments. Large programmes with a global reach will need to consider employment laws, data privacy and data residency, and a whole host of regional-specific issues. Ensure internal local experts are engaged to help steer the programme.
 Communication and Reporting The larger the programme, the more important communication is. If the programme impacts many people across the globe, then it can take time to roll it out. Communication must be regular, consistent and timely, to keep impacted parties engaged.
  Industry Engagement An increasing number of change programmes are regulatory-driven and are industry-wide. It is critical to have links to other banks (bespoke Point-of-contacts or via multi-bank panels) and industry service providers (exchanges, clearinghouses, data providers) to facilitate information and expertise sharing and to ensure consistent understanding of requirements and community impact (e.g., interpretation of complex regulatory-driven change).
 Cross-Program Activities Ensure effective coordination for programme-wide activities such as data migration, end-to-end testing, transition dress rehearsals, etc. Enforcing the use of detailed "Run Books" is a good way of ensuring full departmental engagement, checking for gaps or duplication, and will significantly aid control and confidence.
 Change Control Enforce appropriate and consistent change control, e.g., where objectives, requirements, or timescales change.
 Eliminate Waste Ensure meetings involve the minimum number of people and are outcome-driven.A transparent process for decision-making can save a lot of wasted time and "U" turns. Ensure the programme is audited to an acceptable level but don't create an unnecessary cottage industry. Keep the status management processes lean and effective. If "Trackers for trackers" appear, it's time to prune.

A common misconception is 'numbers and data are great so let's have them for everything.'

Don't; numbers should only be for measuring progress on the programme's defined objectives. Avoid a sea of statistics as it obscures the vital ones and could lead to a lack of clarity and poor decision-making.

Consider the benefits of a central function for planning, financial management, and executive reporting.

  Change Management To be effective, large-scale transformation needs to be embedded into the organisation sustainably. Project teams may have good ideas that can make a significant improvement to operations. If these ideas and approaches are not effectively transferred to the 'line organisation' through appropriate training, clear responsibilities, and operating models, then much of the benefit of the change can be lost in the final stages.
  Knowledge Transfer Project teams, by their nature, are transitory. As the bulk of the works completes, ensure knowledge is transferred from key project individuals to those that will be part of the longer-term picture. Decisions may need to be revisited, and problems may recur; it is critical to retain the "institutional knowledge" of the programme.
  What Next In the modern world, change is a constant. A large project or programme may deliver a significant difference, but the end of the programme is rarely the final goal. If the change is regulatory, there are often ongoing processes or maintenance activities. If the change is centred around a new platform, continuing development and enhancement of what becomes a core part of the business's infrastructure must be planned. Ensure the 'What next' question is asked early on and factor adequate planning.
---
At Vox, we regularly help financial institutions to manage the complexity of change, be it Regulatory, Digital Transformation, or Data related. If you need help, get in touch with Phil Marsden at phil.marsden@voxfp.com or visit www.voxfp.com to learn more.