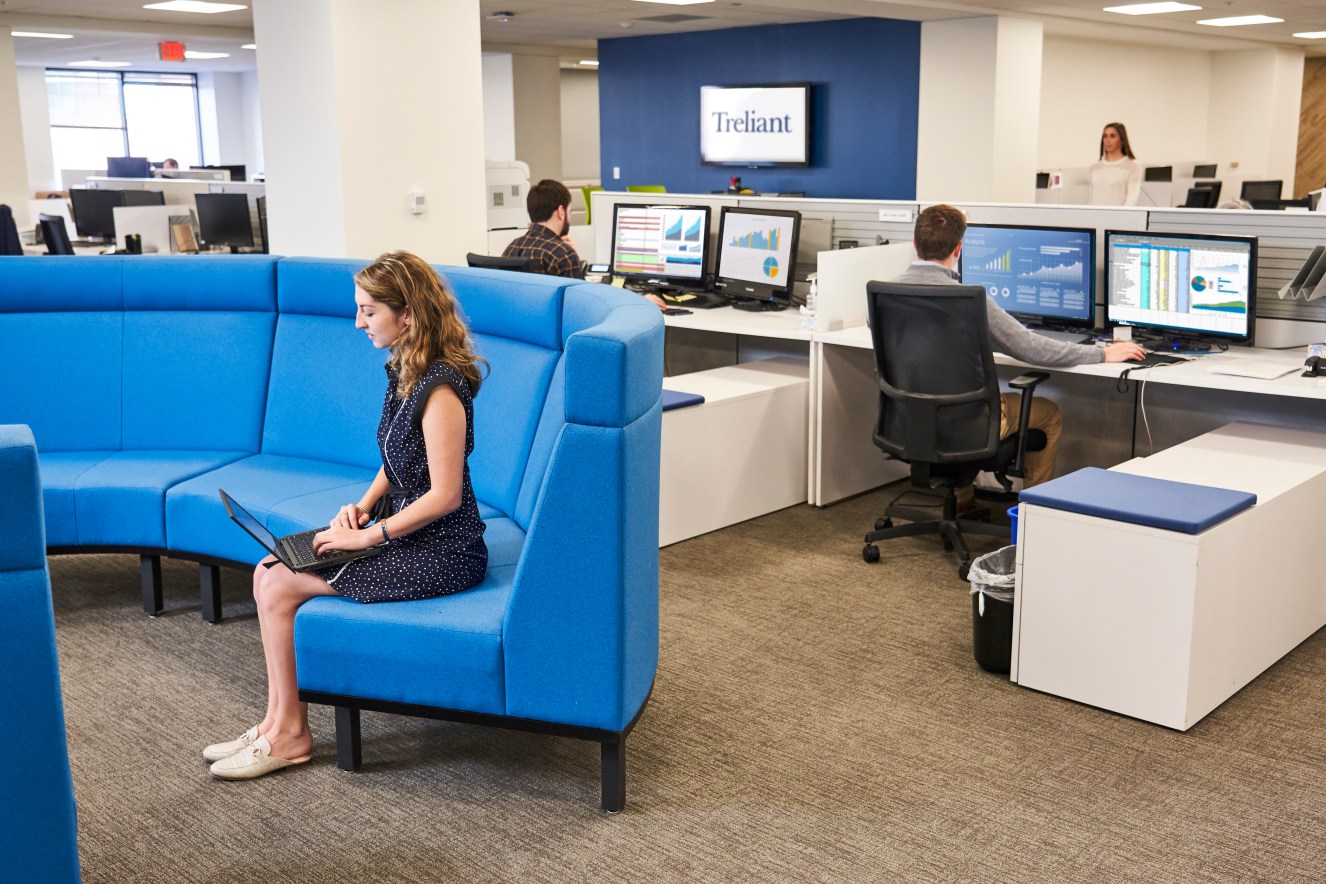 Expert Practitioners.
Customized Solutions.
Join our growing, entrepreneurial, and innovative team. Work alongside talented, driven professionals and industry thought-leaders.
Great Benefits!
Treliant offers a comprehensive and competitive benefits package that gives wide-ranging health and wellness options to meet the different needs of our workforce and their families.
Our CORE Values
Deliver Excellence, Constantly Innovate, Treasure Diversity, Be Nimble, Listen First, and Develop our People, encourages us to have a strong work ethic and keep our client's best interest in mind. If you share those values, then you'll find your place with us.
Our Culture
We have a culture of innovation and collaboration – no day is a "typical day" at Treliant. Challenge and variety are constants here – from the work you do to the people you meet!
Continuous Learning
Opportunities to thrive and grow – collaborate and brainstorm with your colleagues and make an impact. Our cultural diversity means you'll always have something to learn from those around you.
Benefits and Total Rewards
Our employees are very important to us, which is why our benefits and total rewards package is designed with choices for employees and their families that go beyond base compensation.
Our Team Structure
Gives employees direct access to the senior leadership team, who are equally vested in your future as you are!
Click Below to View Our Open Opportunities:
GLOBAL FINANCIAL CRIMES COMPLIANCE
Regulatory Compliance & Risk Management
Ready to make your next career move? Start your career journey with Treliant today!
Treliant offers a range of career opportunities, from recent college graduates to experienced business professionals. We've built a dynamic and inclusive culture, so you'll be encouraged to learn as you go, share your ideas, come up with new approaches to meet the needs of our clients, and accelerate your career.
Join our talent community by introducing yourself. Should we determine that your background and experience meet our hiring needs, we will contact you to schedule an interview. If you are not selected for current employment opportunities, we will keep your resume on file for future consideration.
Positions at Treliant Include
Managing Director
Senior Director
Engagement Director
Director
Senior Manager
Manager
Senior Consultant
Consultant
Senior Analyst
Analyst
And More!
We recognize the workforce is changing at a rapid pace
Treliant realizes today's talented professionals have a growing need for flexibility and look for an alternative workforce. We offer an alternative for today's workforce to have access to jobs in today's gig economy. Consider us when identifying your next professional experience in the consulting industry.
We are always looking for experts to join us in the field.
Join Treliant's Talent Community—it is one of the best ways to stay connected with our Talent Acquisition team!
At Treliant, we don't just offer jobs: we offer careers. Our dynamic professionals meet the challenge and needs of the marketplace and give tremendous advice to clients. If you are aspiring to develop an excellent career, we are the solution.
Candidates selected for interviews will be contacted by the Talent Acquisition team via telephone and/or email. Typically, candidates participate in multiple rounds of interviews.
We serve clients domestically and across the globe which provides employees opportunities to travel and deliver exceptional results on client engagements.
Travel expectations are based on client requests and commitments. Travel requirements vary project to project but average travel time could be as high as 100%. We routinely acknowledge and recognize employees for the extent of their business travel.
Treliant strategically places employees on engagements based on the client's requirements as well as the employee's availability, skill-set, and interest. Due to the varying needs of projects, employees can work concurrently on multiple projects.
Our employees will learn and grow through on the job training, professional development training, research, coaching, and mentorship. They are also given opportunities to attend industry conferences as well as contribute to articles for internal and industry publications.
Equal Opportunity Employer
Treliant, LLC is committed to equal employment opportunity and providing reasonable accommodations to applicants with physical and/or mental disabilities. We value and encourage diversity and solicit applications from all qualified applicants without regard to race, color, religion, creed, national origin or ancestry, ethnicity, sex, pregnancy, sexual orientation, gender (including gender nonconformity and status as a transgender individual), age, physical or mental disability, citizenship, past, current, or prospective service in the uniformed services, genetic information, or any other characteristic protected under applicable federal, state, or local law.