Regulatory Change Management
We offer quality regulatory specialists and competitive pricing to plan, resource, and deliver major change projects.
This challenging regulatory environment needs high-performing, skilled specialists with financial and technical literacy to deliver change management programs. Treliant offers quality regulatory specialists and competitive pricing to plan, resource, and deliver major change projects.​
Treliant can manage global projects by augmenting your existing team with experienced project managers and subject matter experts, supported by trained and resourceful junior staff, to provide scalable resourcing. We are also able to own delivery end-to-end, building and executing the right program to meet your objectives and requirements. In both models, we can work on client premises or from our near-shore Service Delivery Centres.​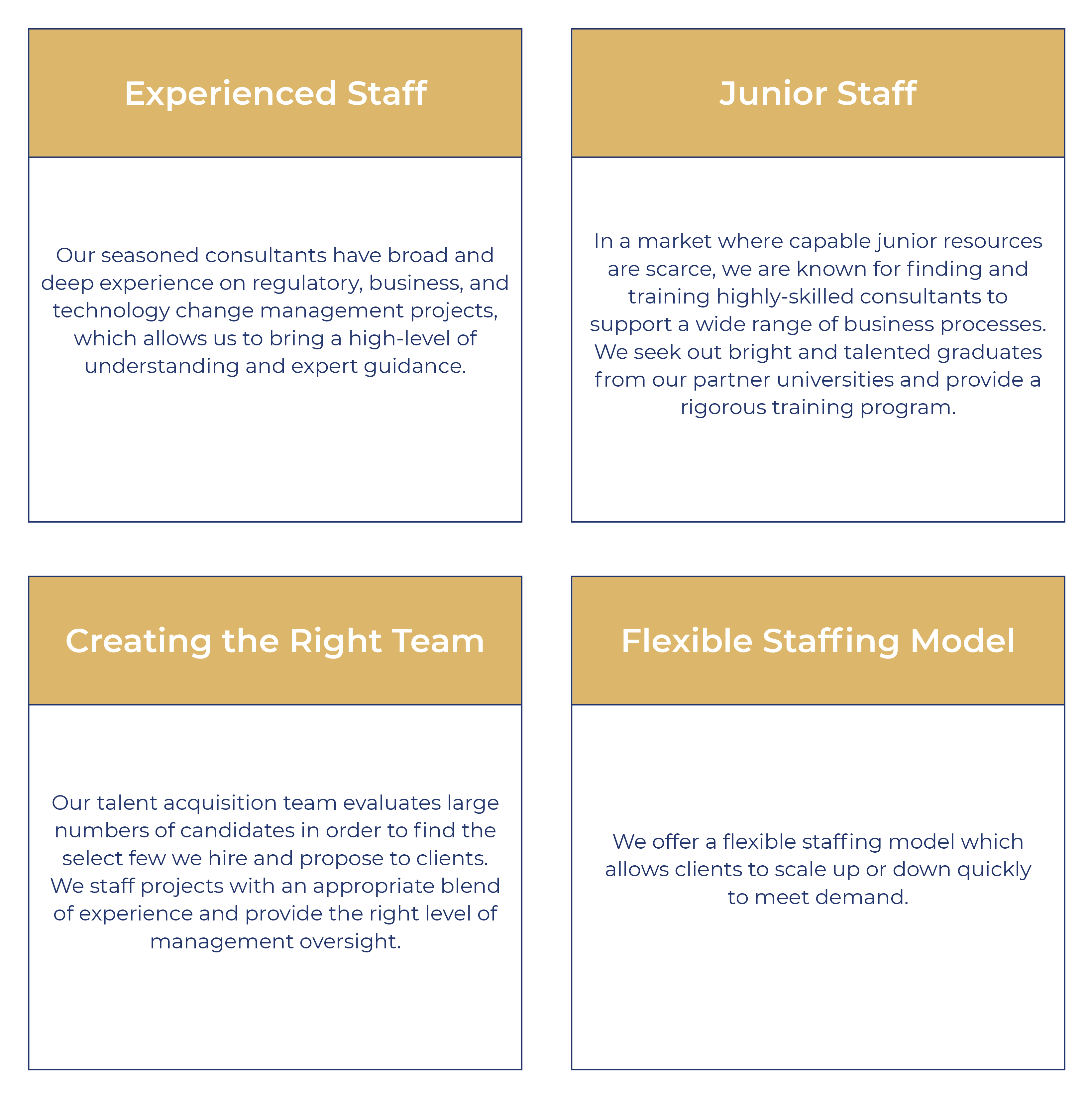 Our Regulatory Change Management Offerings Include:
Our Regulatory Change Management Offerings Include:
Regulatory Change Programs
We have experience of a broad range of projects from repapering clients to complying with derivatives regulation to regulatory reporting. We cover application, operationalization and implementation of regulatory rules and reporting. 
Sample project experience: 
Uncleared Margin

 

LIBOR Reform

 

Security-Based Swap Dealer

 

MiFIDII

 
Our Regulatory Change Management Offerings Include:
Client Outreach
Our teams manage end-to-end client engagement for programs such as IBOR reform, Uncleared Margin, and ISDA repapering.  
Produce client materials

 

Develop and manage internal stakeholder awareness

 

Execution of client communication 

 

Manage inbound client queries

 

Track & report status dashboards

 
 We can provide mixed onshore/nearshore teams to optimize cost.  
Our Regulatory Change Management Offerings Include:
Surveillance Programs
We can assess and upgrade trade and order surveillance programs, including: 
Document venues and brokers used 

 

Trace internal order & trade data representations

 

Validate and assess data quality

 

Link reported data back to sources

 

Define and implement best practices

 
Our Regulatory Change Management Offerings Include:
Contract Repapering
We deliver repapering events from start to finish. 
Analyze contract/trade population to define impacted clients 

 

Create views of clients for each stakeholder area e.g. show business their set of impacted clients

 

Define the set of impacted documentation – including loan agreements, ISDAs, long-form confirms under MCAs, and interest agreements for collateral

 

Analyze docs using OCR/AI to extract key terms, and work with legal teams (in-house or Treliant) to build a view of how each agreement can be remediated

 

Agree approach for each document type e.g. amendments to loans docs or confirms, unwind of trade.

Make use of industry or proprietary tools as required

 

Agree communication approach and perform client outreach activities

 

Track and report the overall body of work as it is executed.

 
Our Regulatory Change Management Offerings Include:
Recovery and Resolution Planning
We have prepared regulatory submissions for recovery & resolution planning.  
Mobilize and lead teams from multiple business areas, risk functions, IT, and Operations

to gather required data – both quantitative and qualitative

 

Draft comprehensive qualitative response to accompany data return 

 

Where necessary, design strategic procedural and systemic changes to facilitate future returns.

 
Our Regulatory Change Management Offerings Include:
Program and Project Management
Success in financial project management is achieved through constructive engagement and relentless execution. 

 

Our program management is guided by a decade of agile project management experience, financial subject matter expertise, and emotional intelligence to deliver results for you. We take the initiative.

 

Our program & project management team have deep expertise in delivery of major digital change programs. We understand how to structure and plan programs within financial institutions to set them up for success.

 

With delivery leadership capabilities across business and technology, we build effective governance frameworks, taking responsibility for optimal use of global resources, and defining the most efficient delivery path to meet the program goals, whilst maintaining an ongoing focus on risk management and mitigation.

 
Our Regulatory Change Management Offerings Include:
Staff Augmentation
Experienced in deploying resources as an extension to an existing client team. 

 

Align resources closely with the skills and knowledge required to carry out the role.

 

Tailor any upskilling and training ahead of the resource joining the client team.

 
Our Regulatory Change Management Offerings Include:
Business Process Outsourcing
We manage the ongoing operation of business-critical processes. 

 
We work closely with our clients to agree SLAs and KPIs on the process to ensure work is carried out to the required quality and delivered seamlessly to your customers.

 
Our Regulatory Change Management Offerings Include:
Nearshoring
IBOR Transition
Global investment banking client is in the process transitioning from LIBOR to SOFR. Treliant analysts are working on all stages of the transition for this global program, including identifying the stakeholders, impacted activity, clients and documents, approach on remediation, aligning with ISDA protocols, and communicating with their clients.   
Initial Margin
As a result of new rules requiring the posting of up-front collateral (initial margin) on OTC derivatives trades, our client, a major dealer in in this space, is now required to post or collect collateral for these transactions. The IM rule was introduced in multiple phases, with the threshold for inclusion based on size of client activity. We assisted the client in reviewing trading activity for assignment to the phases, and performed required outreach, document repapering, and implementation of collateral agreements. 
Uncleared Margin
A global, systemically important bank needed to implement Uncleared Margin regulatory requirements across a diverse client population including Corporations, Public Sector, Tier 2 Banks, Private Equity Funds, and other Alternative Investment Providers. Early in the client's analysis of the project, they realized they would need additional, experienced staff resource as it would run concurrently with other client facing regulatory change initiatives.  
 Our team successfully implemented regulatory requirements with no adverse impact to clients, senior management, or front office staff. Treliant's approach was deemed 'best practice' and adopted for other regulatory programs across the bank. 
AML Sanctions Screening
A tier one investment banking client needed to accelerate the implementation of a consent order and related global operating standards for sanction matches (GOSSM). With limited bandwidth and insufficient internal expertise, we stepped in and deployed a team of highly skilled consultants with strong regulatory, data governance, and technical backgrounds to assist the AML Sanction Screening Workstreams for their trading business.  
Ready to Talk?
We work with you to understand your needs, so we can tailor our approach to your engagement. Learn more when you connect with our team.