Regulatory Compliance & Risk Management
We combine Treliant's industry-leading experience with current regulatory insights to reduce risk and create sustainable solutions.
The banking industry is in the midst of an innovation cycle that's producing new products and services, new partnerships, and new business models. The accelerating pace of change creates new opportunities as well as new regulatory risks. Nearly every banking innovation carries regulatory risk and failure to mitigate this risk has long-term financial and reputational impacts. Treliant's diverse team of industry experts understand this landscape and excel at developing solutions that are risk-based and tailored to the unique needs of each institution.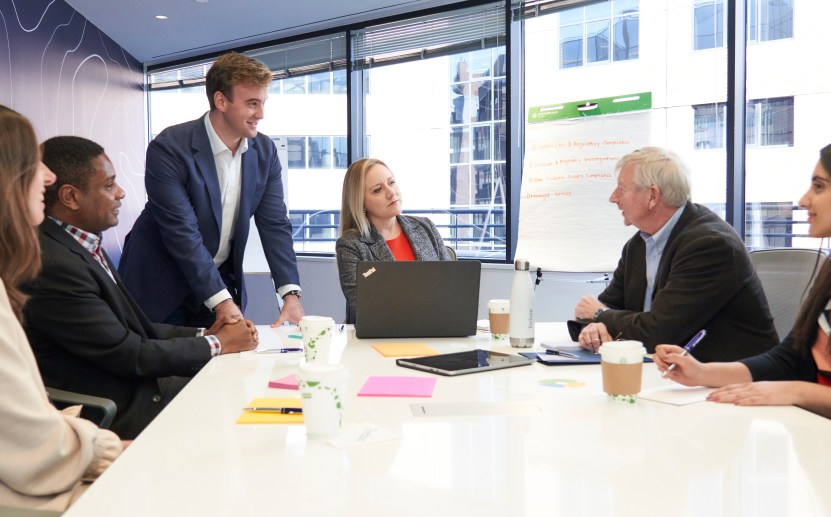 CFPB Readiness and Examination
Evaluated a Top 10 bank's readiness for a Consumer Financial Protection Bureau (CFPB) examination. Treliant reviewed compliance in light of past Federal Deposit Insurance Corporation (FDIC) examination reports, conducted a consent order gap analysis, and analyzed lender-placed insurance practices, resulting in recommendations for improvement in preparation for examination.
Assisted a non-bank lender in meeting CFPB expectations for risk governance. Treliant performed a review of the company's lending, marketing, servicing, and collection practices at its title loan branches. Services included enhancing operational procedures, building out the compliance management system, and customizing management training.
Comprehensive Assessments, Reviews, and Trainings
We assessed a Top 10 U.S. financial institution's complaint 

management system to review its baseline state and perform a gap analysis 

between the system and CFPB recommendations, resulting in steps to 

strengthen the system.

Conducted a comprehensive review for a Top 5 U.S. bank of its retail and credit card product offerings and compliance practices. The review included insurance, ancillary products and services, and promotions and marketing, resulting in recommendations for action to ensure compliance with state and federal regulations.
Delivered four comprehensive training programs at a large financial institution covering UDAAP. Extensively utilizing case studies, these UDAAP University programs resulted in employee-wide understanding of UDAAP regulatory requirements.
Performed a comprehensive compliance risk assessment at a multi-bank holding company. Developed a methodology to conduct multiple risk assessments concurrently that roll up at the holding company level. Treliant developed risk statements, inherent and residual risk attributes, and a scoring methodology that appropriately identified areas of risk.
Performed a comprehensive risk assessment for a national lender of all compliance practices. Services included a review of emerging issues surrounding Unfair, Deceptive, or Abusive Acts or Practices (UDAAP) and the CFPB, an assessment of UDAAP best practices, and the creation of an action plan to improve the client's regulatory compliance policies to meet UDAAP, CFPB, and other national standards.
Privacy Assessments and Gap Analyses
Performed privacy assessments and gap analyses, with recommendations and a strategic implementation plan for regulatory requirements including: California's Consumer Privacy Act (CCPA), the European Union's General Data Protection Regulation (GDPR), the Gramm-Leach-Bliley Act (GLBA), and emerging global requirements.
Ready to Talk?
Treliant works closely with its clients to understand their needs and design an appropriate work plan and approach to each engagement. Learn more when you connect with our team.